i meant to take pictures of every course of this, but i got swept up in the meal so you will have to be satisfied with two pictures and a lot of description.
so this weekend l and i decided to make a FANCY meal for our old housemates and all of our new housemates--we called it four courses for three houses, but it was really more like five courses when all was said and done.
this was like a 6-7 hour cooking project, so it doesnt fit the theme of the blog, but it was totally incredible!
the theme of the meal is:
fallcourse 1: beet and goat cheese crostini with garlic aioli
we meant to start with an
amuse-bouche
, but we made it bigger than we conceptualized it. it was a roasted beet and goat cheese crostini, with a garlic aioli. the aioli was so so so easy to make! i threw the following into the rocket blender, then turned it on for like 30 seconds: 3 cloves of crushed garlic, olive oil, an egg, lemon juice, salt, and pepper.
it looked like this, but less blurry: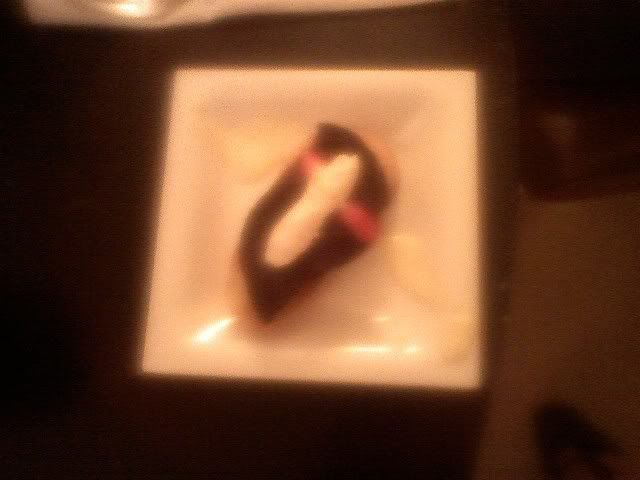 course 2: roasted corn soup with paprika oil and chives.
the second course was a corn soup with chives and paprika oil. i had this soup at a restaurant and wanted to eat it endlessly afterwards.
to make it, throw corn in a roasting pan (um, or heart-shaped cake pan, which is what i used). frozen corn is fine. add olive oil, minced garlic, salt, and pepper, and roast until it is brown. while that is cooking, slow-cook some onions. heat boullion up on the stove in soy/milk. when they are all ready, blend them together and strain them (can you believe i actually strained soup???
tom colicchio
would be so proud!). sprinkle chopped chives and paprika oil (basically, paprika cooked in some olive oil) on top, and voila!: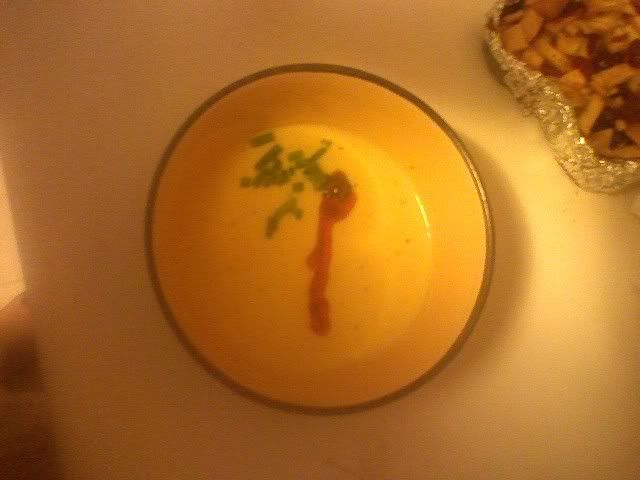 course 3: roasted balsamic mushrooms and mixed greens with lemon vinegarette
the third course sort of came from
starting with ingredients
, which is such an incredible cookbook! but then we forgot it when we were cooking, so we made it up. we tossed some mixed greens with a lemon vinegarette, made of lemon juice, olive oil, salt, pepper, grapefruit vinegar, sugar, garlic, and ginger. we then roasted three kinds of mushrooms (oyster, crimini, shitake) in the oven, and made a balsamic syrup with reduced balsamic and brown sugar. we tossed the cooked mushrooms with that. then we fried up some thinly sliced shallots. we then just piled everything on top of each other. i really liked it because the flavors totally worked together, but also stayed pretty separate.
course 4: acorn-walnut gnocchi with roasted garlic-sage butter, cherry tomatoes, and wilted spinach
lucas pretty much spearheaded this course. we tried to make it wheat-free and totally failed. i recommend making gnocchi with a recipe.
course 5: apple-cranberry galettes with maple-infused vanilla ice cream
so for this we basically made a shortbread crust to make some free-form tarts. the apples were chopped tiny, and i mixed the fruits with fresh ginger, a bit of nutmeg, and maple syrup--super simple, and really echoing traditional flavors, but also a sort of unexpected taste in yr mouth. the ice cream was SO EASY--we just heated some cream, dissolved sugar in it, and then cooled it, added vanilla bean, salt, and the maple that we totally forgot about earlier, and added a bunch of 2% milk so it wouldnt be
all
cream. then we threw it in the ice cream maker! then we (ok, i) spilled it all over. then we ate the rest.
all in all, an AMAZING meal. super labor intensive. but we fed 10 people with aplomb!