this morning, the day after the fancy meal, my friend k came over to fulfill a baking date we have been trying to have for literally 6 months! we decided to bake two things--i bottomlined the gingerbread, and she bottomlined the pie (with the apples and cranberries left over from last night!).
the gingerbread took
maybe
ten minutes from conceptualization to oven, and the pie only longer than that because of the crust having to cool.
i threw the following into my kitchenaid:


earth balance


vanilla paste


soymilk


egg replacer


sugar


fresh crushed ginger


molasses
and i mixed them all up. then, on top of them, i put the next ingredients:


flour


baking powder


baking soda


salt
then i did this ridiculous thing that i like to think is akin to mixing in separate bowls, which i clearly am not going to do. i put the mixer head down so it just touches the flour mixture, and mixed it that way for like 10 seconds. then, i mixed as usual. it was way too thick, so i added more soymilk. then we sprayed the mini-loaf pans, and put it in the oven (at 375-ish).
i rinsed out the bowl and whipped up some icing--powdered sugar, lemon juice, a little bit of lemon zest.
when we iced it, we put a tiny bit of chopped crystallized ginger on top. the result was the
most amazing gingerbread ever
. for serious, this shit MELTS IN YR MOUTH. it is so, so good.
and, pretty!: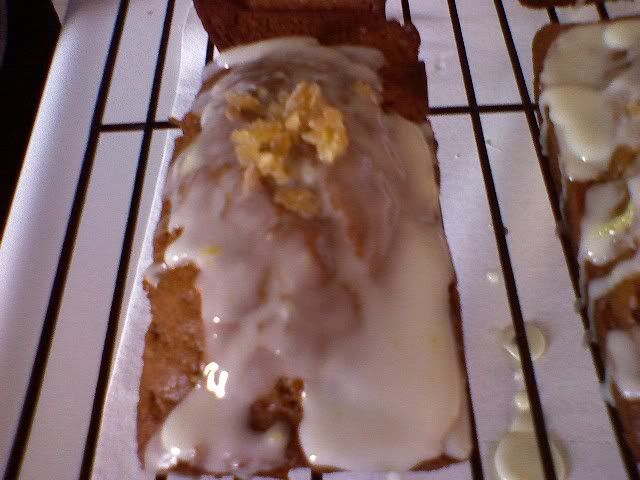 i can't speak to how the pie was made, really, but is it not the cutest thing you have ever seen?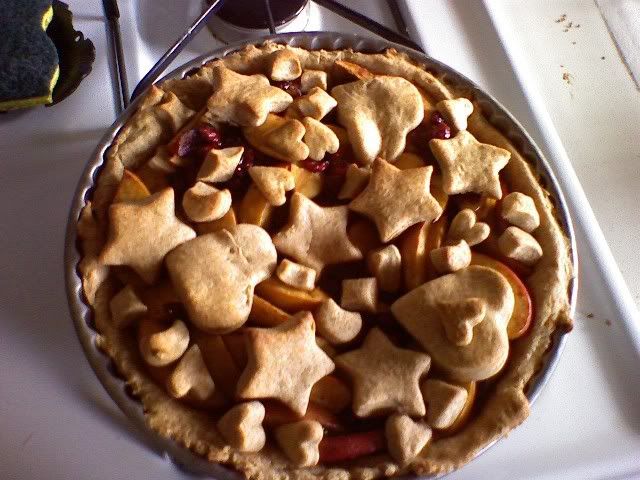 such a nice morning/early afternoon!